Meet the Owner – Megan Laurence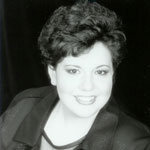 Megan Laurence has been entertaining since the age of three, first for her family and friends and later for audiences in the Ottawa area. As a child, she performed various roles in musical theatre. Her greatest delight is interacting with people through her singing.
In 1994, Megan began entering many competitions and talent shows as a solo performer. Since then she has won many awards and titles. Among these are: Grand Champion Teen Vocalist on Homegrown Café, First place at Songfest, Overall Outstanding Vocal Student in the Montreal Music Festival (as well as six gold medals), First place in the Vocal Category and overall winner at Youth Talent Search at SuperEx.
At the age of 16, Megan began performing in area night clubs, where her interactive performances of all types of music — standards, jazz, country, and contemporary – earned her the reputation of "Ottawa's best kept musical secret." Since then, she has entertained in Ontario, Quebec, Newfoundland, and the US.
A graduate of the Vocal Program at Canterbury High School, Megan began teaching vocal lessons in 2000. In addition to singing, she teaches performance skills, microphone techniques, theory, and stage presence. Her training in Psychology is an asset in her teaching.
Interested in meeting Megan? Book an vocal assessment today!